VOI E-BIKES IN KETTERING
When will e-bikes be available?
E-bikes are part of Voi's multimodal offer, and they will be available to rent in Kettering from the 21st of January.
How many e-bikes will be available to rent?
We will start the e-bike trial with 20 vehicles, and as the trial progresses, the number will increase to meet demand and support the local community to move around safely.
Do e-bikes work with the same app as e-scooters? How does it work?
Yes, e-bikes use the same Voi app as e-scooters and the process to start using one is the same. To get started, a user needs to download the Voi app from the App Store or Google Play to create an account. A user can locate an available e-bike in the app. When the user is standing next to the e-bike, they can unlock it with the app.
Do users need a driving license to ride an e-bike?
Yes, the same user registration process that Voi has for e-scooter also applies for e-bikes. Users must have a provisional driving license and be 18+ to ride an e-bike. These licenses can be obtained in one week, through an online application. Riders cannot begin their first ride without first verifying their license in the app. Verification is performed by Onfido, a trusted technology that verifies user's identity using a photo-based identity document.
What traffic rules apply to e-bikes?
The same rules which apply to bicycles and e-scooters apply to e-bikes.
For the launch of our new e-bikes, Voi worked with VIAS research institute and developed 8 points for safe riding. These points are based on United Kingdom traffic rules, signs, signals and general safety precautions.
1. Use dedicated cycling infrastructure
2. Watch out for pedestrians
3. Signal to other road users
4. Ride on the left side of the road or cycle lane
5. Obey all traffic signs and traffic light signals
6. Do not drink and ride
7. Pay attention and adapt your riding to your surroundings
8. Keep your distance and stay alert
Will RideLikeVoila have sections dedicated to e-bikes?
Our online schools are focused on e-scooters, but the same traffic rules that apply to e-scooters are also applicable to e-bikes (more info above).
Do you need to wear a helmet to ride a Voi e-bike?
Helmets are not mandatory, but it is safer to wear one and Voi recommends e-bike riders to wear one at all times.
How much will it cost to rent an e-bike?
E-bikes will follow a similar pricing model to e-scooters. It costs £1 to unlock the e-bike and then £0.15 per minute of usage. Voi also offers 24-hour (at £10) and 30-day (at £40) subscriptions that allow users to take an unlimited number of rides at a fixed rate. In addition, Voi there are discounts for students, those on a low income (Voi 4 All) and NHS and Emergency workers (Voi 4 Heroes).
When can I rent an e-bike?
E-bikes will be available to rent in Kettering from 04am to 11pm seven days a week.
Are e-bikes limited to the same geographical area as e-scooters?
Yes, e-bikes are bound by the same geographical area as e-scooters.
Voi uses Geofencing to create a virtual geographic boundary, enabling software to trigger a response when a mobile device enters or leaves a particular area. When an e-bike goes beyond a certain boundary, it's speed will gradually reduce. We do not stop the bike motor completely, because this could be dangerous for the rider, and they will still be able to pedal. Users can see their locations and operating zone in the in-app map.
Are e-bikes also geofenced with no ride, slow ride and no parking areas?
Yes, e-bikes also use geofencing to ensure no ride, slow ride and no parking zones are observed. However, while the motor will slow down or switch off by geofencing, it is still possible for the user to pedal the e-bike.
Where can e-bikes be parked?
E-bikes can be parked in the same areas as e-scooters.
Will e-bikes have parking racks?
E-bikes will be parked in the same areas as e-scooters.
As the number of vehicles increases, we will work with local authorities to ensure the necessary parking infrastructure is in place.
View the Smart Map to see cycle parking in Kettering.
Will Voi e-bikes have number plates?
Yes, like the e-scooters, e-bikes will be fitted with number plates so they can easily be identified and reported.
What's the maximum speed for e-bikes?
E-bikes are assisted up to 15.5mph (25km/h).
How long can the e-bike ride before the battery needs to be charged?
The e-bike has a range of up to 50km (31miles).
E-bike specs
● Swappable battery
● Wheels 26''
● Up to 50KM range
● 25km/h max speed
● Three speeds gearbox
● Basket to carry goods (up to 10kg) -> complementarity with e scooters
● Built to last (-20C, +45C)
● Bell
● Front light and red rear light (when the bike turns on the lights are immediately turned on, and they turn off when the bike is parked and locked
● Front brake placed on the left side near the handlebar
● Rear brake operates by pedaling backwards
● The Voi e-bike e is equipped with an electronic controller for the various bike
components management (electric motor, battery, light system, sensors). This controller has a sensor that notifies the controller of the user's driving direction, so that it can activate the motor assistance when necessary.
I've noticed the bike only has one brake on the handlebar?
The brake located on the handlebar's left side is the front brake, to use the rear brake riders need to pedal backwards.
Are e-bikes also disinfected and fitted with copper tape on the handlebars?
Safety is Voi's number one priority. Voi's e-bikes are disinfected every 24 hours, and they are fitted with copper tape that inactivates and minimises the transmission of Covid-19. In addition, Voi provides Covid-19 advice and information via the app and encourages its users to use hand sanitiser and wear gloves.
How sustainable are Voi's e-bikes?
Voi's e-bikes are a safe, sustainable choice of transportation. Similarly, to e-scooters, e-bikes are an important catalyst for people to leave their cars behind when travelling in dense urban areas, or as an alternative to sharing a car trip or public transport, especially for shorter journeys. Voi is committed to ensuring our e-bikes have a similar environmental performance to our escooters. We will also ensure transparent and precise carbon accounting for this service by conducting a carbon footprint assessment to verify the above assumptions and measure all environmental impacts of our e-bikes.
As a company, Voi has been operating carbon-neutral operations since January 2020.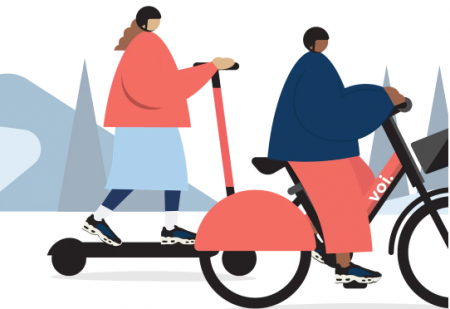 Interested in trying Voi's new e-bikes? Find out more here. They've also put together a great guide on how you can ensure safety whilst riding!