Smart Move Northamptonshire e-scooter trial 
Northamptonshire trial, August 2021
Registered users = 50,000+
Rides = 830,000+
Distance travelled = 2,200,000km
The Northamptonshire e-scooter trial is part of a wider initiative from the Department for Transport (DfT) which was accelerated as part of the response to the COVID-19 pandemic.   New emergency legislation was introduced last year to make e-scooters legal in the UK for the first time.  The trial helped us respond to the immediate need to provide a clean and green alternative to public transport and car sharing for those travelling to work and undertaking essential journeys.  It will also now help build our understanding of the role that e-scooters could play in the future across Northamptonshire and in different sized towns, particularly in relation to shorter journeys, improving local connectivity where availability of public transport is limited, and how we can start to move towards a net zero (emission) carbon transport system as conditions return to more 'normal'.
Both North and West Northamptonshire Councils are keen to explore new ways to manage the increased demand for safer travel options and provide attractive, green choices. This aligns closely with the Smart Move Northamptonshire initiative. 
Following a competitive tender process launched by Northamptonshire County Council, Voi Technology UK Limited (Voi) were selected to provide an on-street e-scooter rental service in Northamptonshire.  The scheme launched in Northampton in September 2020 and has since launched in Kettering (December 2020), Corby (February 2021) and in Wellingborough and Rushden / Higham Ferrers (both March 2021).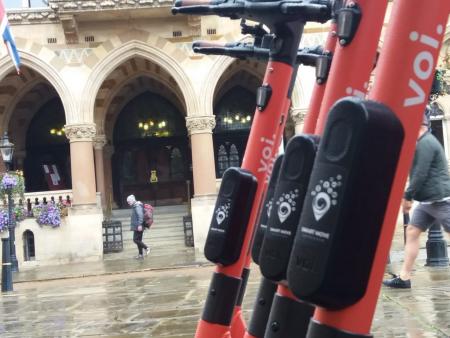 Click here to hear what a Northamptonshire key worker had to say about the Voi 4 Heroes pass which gives unlimited free e-scooter rides to medical and emergency service workers throughout Covid-19 restrictions.