Smart Move Northamptonshire e-scooter trial 

The Northamptonshire e-scooter trial is part of a wider initiative from the Department for Transport (DfT) which was accelerated as part of the response to the COVID-19 pandemic.  New emergency legislation was introduced in May 2020 to make e-scooters legal in the UK for the first time.  The trial helped us respond to the immediate need to provide a clean and green alternative to public transport and car sharing for those travelling to work and undertaking essential journeys. 
Following a competitive tender process launched by the former Northamptonshire County Council, Voi Technology UK Limited (Voi) were selected to provide an on-street e-scooter rental service in Northamptonshire.  The scheme launched in Northampton in September 2020 and has since launched in Kettering (December 2020), Corby (February 2021) and in Wellingborough and Rushden / Higham Ferrers (both March 2021). 
Future plans 
The trial is helping to build our understanding of the role that e-scooters could play in the future across Northamptonshire and in different sized towns, particularly in relation to shorter journeys, improving local connectivity where availability of public transport is limited, and how we can start to move towards a net zero (emission) carbon transport system as restrictions are eased.
Both North and West Northamptonshire Councils are keen to explore new ways to manage the increased demand for safer travel options and provide attractive, green choices. This aligns closely with the Smart Move Northamptonshire initiative. 
You can find out more information on Northamptonshire Police's website about how Northants Police, Voi and NCC have been working together to enhance the safety of the scheme. 
Safety warning
It remains against the law to ride a private e-scooter on a public road or pavement. 
Safety is paramount for this trial and users must be 18 or above and also hold a provisional or full driving license to ride an e-scooter. Before a user can unlock an e-scooter their driving licence will be checked through the smart phone app. Like cycling, a helmet is recommended, but is not mandatory.  Riders are encouraged to wear a helmet and rewarded for doing so through credits, and we have been working closely with Voi on helmet giveaways and safety events.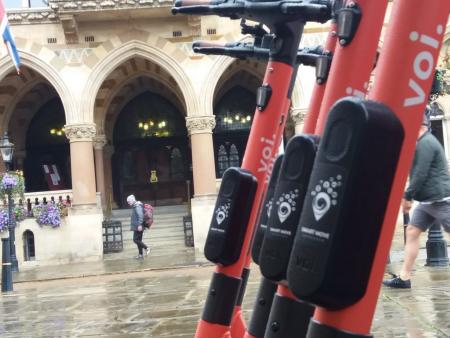 Reporting issues 
Members of the public can report incidents of rule breaking or poorly parked scooters directly to Voi using their Report a Scooter form.
Reported incidents are taken very seriously. If you can provide the time and location of the incident, ideally along with the 4-digit ID on the scooter, this makes it much easier for Voi to investigate and take the required action. This can include bans for anti-social use or rule breaking. 
Testimonials 
View Voi's blog to hear what a Northamptonshire key worker had to say about the Voi 4 Heroes pass which gives unlimited free e-scooter rides to medical and emergency service workers throughout Covid-19 restrictions.