Smart Move Northamptonshire e-scooter trial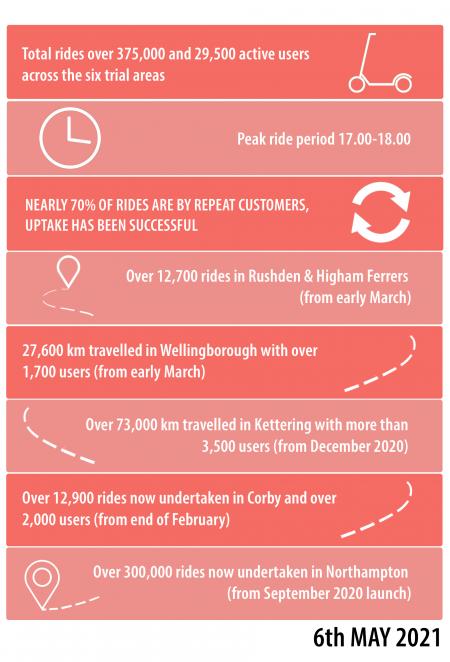 The Governments guidance for Covid-19 safer travel is "help control coronavirus and travel safely by walking and cycling, if you can. Where this is not possible, use public transport, and keep your distance, or drive". Government guidance for e-scooter users can be found here. 
Click here to hear what a Northamptonshire key worker had to say about the Voi 4 Heroes pass which gives unlimited free e-scooter rides to medical and emergency service workers throughout Covid-19 restrictions. 
NCC is therefore keen to explore new ways to manage the increased demand for safer travel options and provide attractive, green choices. This aligns closely with the Smart Move Northamptonshire initiative. 
NCC is excited by the opportunity offered by the Government (via the Department of Transport) to run a series of e-scooter trials in response to the COVID-19 pandemic as a way of delivering a green restart to local transport systems. This is one of the first to be approved in the UK. Via the trials, NCC will be able to build its understanding of the role that e-scooters could play in the future and how it can support and manage their use.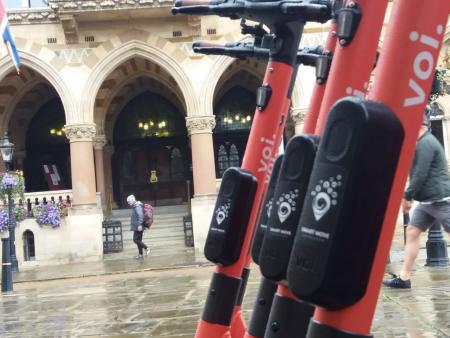 Following a competitive tender process launched by Northamptonshire County Council, Voi Technology UK Limited (Voi) have been selected to provide an on-street e-scooter rental service in Northamptonshire.  The scheme launched in Northampton in September 2020 and has since launched in Kettering (December 2020), Corby (February 2021) and in Wellingborough and Rushden / Higham Ferrers (both March 2021).  The trial will run until September in Northampton and Kettering and until November 2021 in  the other towns.
You can find out more information here about how Northants Police, Voi and NCC have been working together to enhance the safety of the scheme. It remains against the law to ride a private e-scooter on a public road or pavement.