To allow people to make the switch to electric vehicles, there needs to be good access to public charging facilities so that people can charge easily and conveniently. There are already some electric vehicle charging points at key amenities in Northamptonshire, but many people prefer to charge overnight at home. For people living in areas with on-street parking this is not always practical and can be a key barrier to using an electric vehicle. 
The Virgin Media Park and Charge (VPACH) project aims to deploy on-street charging sockets in towns and cities across the country. This means that more residents without access to driveways will be able to charge their electric vehicles in their street. Using existing Virgin Media street cabinets and ducts, on-street electric vehicle charging points were installed by Liberty Charge (a company owned by Virgin Media) and connected into its digital network. West Northamptonshire Council and North Northamptonshire Council are two of the Local Authorities that are involved in the project, entirely funded by Innovate UK. 
Each location offers two 22 kW fast chargers (except Pollard Street, which only has one charger), managed and maintained by Virgin Media. Each charger serves two parking bays. To minimise the impact on parking availability in the short term, only two of the parking bays are dedicated to electric vehicles, with the other two bays available to electric and non-electric vehicles.
On-street charging points are now installed and live at the following locations:
West Northamptonshire:
Northampton - St. James Park Road - NN5 5EL 
Northampton - Upper Thrift Street - NN1 5HR
Northampton - Ardington Road - NN1 5NE
Northampton - Barry Road - NN1 5HU
Northampton - Oakwood Road - NN1 4SX
Northampton - Semilong Road - NN2 6BU
Northampton - Vicarage Road - NN5 7AX
North Northamptonshire:
Corby - Burghley Drive - NN18 8EB
Higham Ferrers - Newman Street - NN10 8JP
Kettering - Kinglsey Avenue - NN16 9AQ
Kettering - Montagu Street - NN16 8SE
Kettering - Linnell Way - NN16 8PS
Kettering - Pollard Street - NN16 9RH (2 bay site)
Kettering - Rockingham Road - NN16 9AA
Kettering - Telford Road - NN16 8PS
Rushden - York Road - NN10 0RF
Thrapston - Highfield Road - NN14 4PG
Wellingborough - Castle Road - NN8 1LL
Wellingborough - Knox Road - NN8 1JA
Sites under consideration:
Over the next six weeks (from 3rd February 2023) we will be undertaking consultation for an additional 18 sites across North Northamptonshire – listed below.
Corby - Campbell Road - NN17 1RP
Corby - Cecil Drive - NN18 8BB
Corby - Telford Lane - NN17 1BY
Desborough - Victoria Street - NN14 2LX
Higham Ferrers - Midland Road - NN10 8BT
Higham Ferrers - Queensway - NN10 8BU
Higham Ferrers - Wood Street - NN10 8DJ
Kettering - Hawthorn Road - NN15 7HU
Kettering - Headlands - NN15 6AA
Kettering - Linden Avenue - NN16 0EP
Kettering - Pytchley Road - NN15 6JA
Kettering - Station Road - NN15 7AW
Kettering - York Road - NN16 0DB
Rothwell - Market Hill - NN14 6BX
Rushden - Midland Road - NN10 9TP
Wellingborough - Doddington Road - NN8 2JG
Wellingborough - Hatton Avenue - NN8 5AP
Wellingborough - Irthlingborough Road - NN8 1NU
About the charging points
The image opposite shows the Alfen Eve Double Line 22 kW charger installed at each location. The key features of the Alfen charger are:
Pedestal mounted unit at 1.4m tall
Two 'Type 2' charging sockets – allows two cars to charge from a single unit reducing clutter
7" (18 cm) colour LCD display screen for usability
Integrated RCDs and DC Fault detection
Front mounted sockets ensures footpath remain clear of cables
Installed in NAL Retention Sockets for maximum flexibility across multiple hardware with no additional civils
Delivers 22 kW per unit - if both sockets are used simultaneously users will share the 22 kW output
Typical Charge Time: Single car* charging from empty to full = 1.5 hours compared to 9 hours using 3.7 kW lamppost charger

* Estimate based on Mini Electric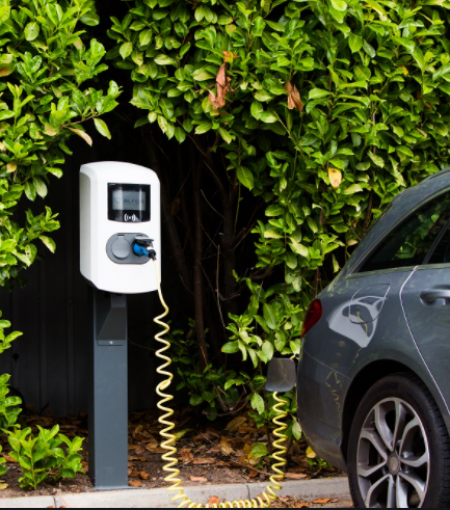 Request an on-street charging point in your area
We would also like to hear from Northamptonshire residents on where charge points should be provided in the future. We are particularly interested in suitable on-street locations. Use the links below to nominate your street or propose another site for an electric vehicle charging point (the links below will open in a new window). 
Request for North Northamptonshire