Starship is the world's leading on-demand neighbourhood delivery service that utilises autonomous robotic technology. It has been successfully operating for over 18 months in Northampton following a launch in November 2020. In addition to the Northampton trial area, from July 2022 residents in Wellingborough, Rushden and Higham Ferrers will also be able to use the service. Via the service, residents are able to order groceries and other items from various Co-op and Tesco store, via the Starship Delivery App, and have them delivered right to their front doors.  Over 70,000 households are now able to access the service.
Starship's Robots are low-mass, slow-speed, electric devices that travel autonomously on pavements, using proprietary mapping, navigation and three layers of sophisticated obstacle avoidance technology, including 9 cameras (3 front, 4 sides, 2 rear), 8 ultrasonic obstacle detectors (front), a radar, 2 Inertial Measurement Units and a GPS.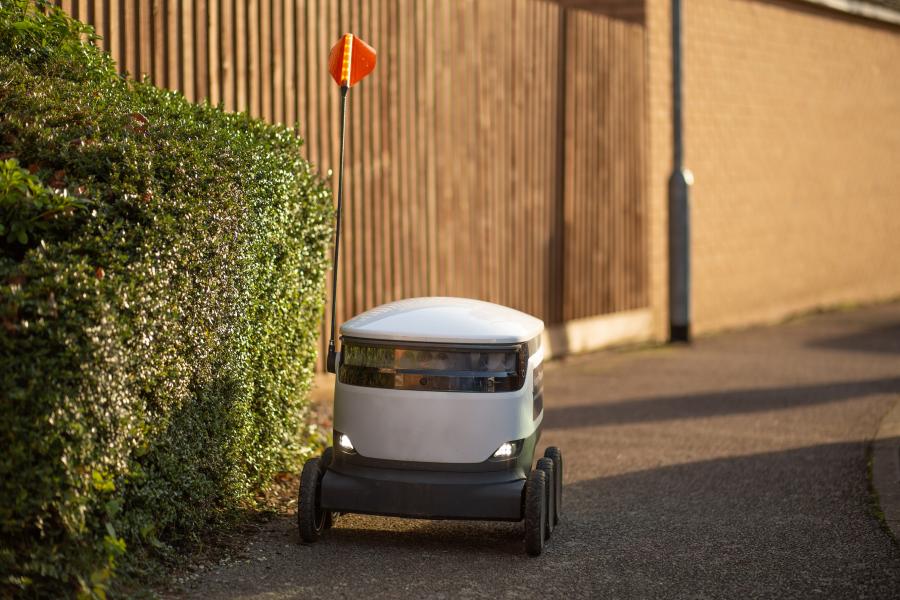 They can identify objects in their vicinity and make the necessary course corrections to avoid them. When an object is adjacent to it, but not in front of it, the robot reduces its speed. When an object is in front of the robot, it will come to a complete stop.  Pedestrians always take priority.
They are restricted to 4mph. 
Users can open an app and place their order, select their delivery time and then await delivery.  When the robot arrives, they are able to securely unlock the device and retrieve their shopping.
Benefits of trial
Improved local air quality.  The robots are electrically powered and emit zero emissions. The robots are also 25 times more energy-efficient than a single-car shopping trip. In Northampton they have prevented an estimated 65 tonnes of CO2 being emitted into the atmosphere.
Socially distanced delivery. The operation came at an especially important time in the Covid-19 pandemic.  The contactless nature of the service supports social distancing and reduces the number of people heading into physical stores to do their shopping. This protects not only customers but retail workers too.  Deliveries also provided a lifeline to most vulnerable 'shielding' residents who couldn't leave their homes. 
Alternative delivery method. The robots provide an alternative for those who are unable to travel to collect their own shopping.
The trial is operating at no cost to the local Councils, and they do not benefit financially from this scheme.   The scheme also operates in Milton Keynes.